Resources for new students.
New student transferring to Sofia?
Here are some common questions and answers…
The Form I-20 (also known as the Certificate of Eligibility for Nonimmigrant (F-1) Student Status) is a United States Department of Homeland Security, specifically ICE and the Student and Exchange Visitor Program (SEVP), document issued by SEVP-certified schools (colleges, universities, and vocational schools) that provides supporting information on a student's F-1 status. Since the introduction of the Student and Exchange Visitor Information System (SEVIS) run by SEVP, the form also includes the student tracking number (SEVIS ID number) and Sofia's school code.
Therefore, if you're an initial student applying abroad, you will need to obtain an Initial I-20 from Sofia University to apply for the F-1 student visa at a consulate outside the U.S. You will also need to present your I-20 at the U.S. border along with your F-1 visa, and other supporting documents in order to be able to enter the U.S. as an F-1 student.
As previously mentioned, all international students studying in the United State require visa sponsorship. Students are required to complete an Initial I-20 form in order to apply for the F-1 (nonimmigrant visa) student visa. Before Sofia University can sponsor your I-20 Form, the student must be accepted to their program of study, have submitted the following documents and paid the I-901 SEVIS Fee.
I-20 requirements:
• Copy of passport identification page (passport should be valid for at least six months after your date of entry to the U.S.)
• Official Financial Documents (please read our requirements for financial documents)
• Financial affidavit of support (if applicable)
• Completed I-20 Request Form
Transfer Students
If you are transferring to Sofia University from a college/university in the United States and have a valid Form I-20, Sofia University and your current school will collaborate to transfer your existing SEVIS record to Sofia University. This will allow you to remain in compliance with your F-1 Student Visa status.
Also, please ensure you are transferring within the 60-day grace period if you have already completed your program at your previous institution. If your F-1 visa has expired and you have already left the country, you will need to re-apply for an F-1 Visa at a U.S. Consulate prior to your program start-date at Sofia University.
When requesting for an I-20 for your Sofia program of study, please show all sources of your financial support and ensure that the sum equals or exceeds the estimated expenses for yourself and any dependents.
• Bank Statements/letters must be official and clearly state: name of account holder, name of financial institution, currency (doesn't need to be USD) and show proof of available balance.
• Documents must be issued within the last six months and must be in English or accompanied by an official English translation. Funds must be liquid (readily accessible without penalty).
Financial sources must be readily available liquid assets, such as:
• Checking or savings account
• Certificates, term deposit, fixed deposits (with maturity dates no later than the program start date)
• Educational loans (a loan application or pre-approval is not sufficient)
• Current Accounts
The following documents/funds are NOT acceptable:
• Paystubs or statements verifying employment and/or salary
• Insurance premiums or policies
• Property or personal assets such as automobiles, land, building, jewelry, etc.
• Non-liquid assets such as stocks, bonds, equities, retirement accounts, deposit accounts that have NOT met their maturity date, etc.3
• Income tax returns
• Non-educational loans
• Funds that are not in English and not accompanied by an official translation
The SEVIS I-901 fee is required once for each SEVIS record. If you are renewing your F-1 visa and have maintained your previous SEVIS number, you have already paid the SEVIS I-901 fee. If you are transferring to Sofia University from another U.S. institution, your SEVIS record will be transferred; you do not have to pay another fee.
For Frequently Asked Questions (FAQ) see forms & FAQ's tab.
Important Note: It is very important that you also check the website for the U.S. consulate in the city and country you are applying in. Find a list of consulates and embassies on the US Embassy site.
The DS-160, Online Nonimmigrant Visa Application form. Form DS-160 is submitted electronically to the Department of State website via the Internet. Consular Officers use the information entered on the DS-160 to process the visa application and, combined with a personal interview, determine an applicant's eligibility for a nonimmigrant visa.
Review the Frequently Asked Questions for instructions about using the DS-160.
Access the online DS-160 by clicking: Consular Electronic Application Center website.
Important Notice to Visa Applicants: After you have completed the DS-160, you must take these next steps below:
• Print and keep the DS-160 barcode page. (You will not need to print the full application.)
• You must schedule a visa interview appointment. (The U.S. Embassy or Consulate does not schedule an appointment for you.) Visit the U.S. Embassy or Consulate website where you will be interviewed for country-specific instructions.;
• Pay the visa application processing fee. Review country-specific instructions on the U.S. Embassy or Consulate website.
To provide time for visa processing, students are encouraged to start applying for their visa as soon as they receive their SEVIS number from Sofia University. Please note, US Embassies or U.S. Consulates are able to issue F-1 entry visas up to 120 days before the program start date listed on your I-20.
The following documents are typically required for your visa appointment:
• Online Non-immigrant Visa Application Form (DS-160) confirmation page
• Visa application fee payment receipt (visit the U.S. Embassy or U.S. Consulate website for specific instructions)
• Form I-20 issued by the DSO at Sofia University
• Valid passport (the passport should be valid for at least six months after your date of entry to the U.S.)
• Evidence of financial support (proof of sufficient funds for estimated cost of one academic year)
• Student and Exchange Visitor Information System I-901 fee payment receipt
• A copy of your acceptance letter to Sofia University
• One photograph (see the USA Department of State website for photo requirements)
Helpful Tips: Keep copies of all documents that you submit for any USCIS procedure.
All applicants should be prepared to provide additional information, such as transcripts or diplomas from previously attended institutions, or documents which demonstrate that the applicant intends to return home after their studies.
Dependents will receive their own I-20 with a Student and Exchange Visitor Information System identification to apply for the F-2 visa. Dependents are not required to pay the Student and Exchange Visitor Information System fee.
No assurances regarding the issuance of visas can be given in advance. Therefore, final travel plans or the purchase of non-refundable tickets should not be made until a visa has been issued. After the visa has been issued, please be sure the F-1 visa sticker in your passport is accurate and that your original I-20 has been returned to you as you will need to have it in hand when entering the U.S.
Important Note: Citizens of Canada and Bermuda do not need to apply for an F-1 visa but are required to have the I-20 and pay the Student and Exchange Visitor Information System I-901 fee before entering the USA to study.
Appointment with the U.S. Embassy
As we move forward with your F-1 Student Visa process, it is important to confirm with your DSO at Sofia University when your upcoming visa appointment will take place. One of the great perks we offer at Sofia University are short "mock interview" sessions with our prospective international students.
During this "mock interview" session, the DSO and prospective student can discuss what to expect during their visit at the U.S. Embassy. It will also be discussed what list of documents the student should bring with them and what sort of questions the Consular Official might ask during this important visit.
If you're interested in scheduling a 30-minute "mock interview" session before your visa appointment at the U.S. Embassy, do not hesitate and let us know! We will be more than happy to assist you! Please contact the DSO at dso@Sofia.edu to schedule your mock interview.
• I-20 Form (Do not forget to sign I-20)
• Passport valid for at least six months
• Printed receipt for 1-901 SEVIS fee
• Documentation that you have paid the Visa Application Fee
• Confirmation of your visa interview appointment
• Evidence that you have the amount of funding indicated on your I-20 or DS-2019 form.
• English TOEFL Test Scores or Transcripts if needed
• Dress appropriately
• Arrive at least 15 minutes early for your interview appointment
• Interviews last approximately 3-5 minutes
• Be clear of your intention to study
• Show ties to your home country
• Be confident and prepared
• Be able to discuss why you chose the school and major
• Provide brief, specific, succinct answers
• Remain calm and relaxed
• Only answer the questions that are asked and do not provide more information than what is asked for.
During your F-1/J-1 visa interview or at the Customs Control at the port of entry you may be asked questions about your studies, your university choice, how you are planning to pay for your education, your post-graduation plans, and more. Here are some of the common questions that you may expect.
• What's your purpose to go to the U.S.?
• Why did you choose to study in the U.S.?
• Which University will you attend?
• What will be your degree and major?
• Did you go to a University at your home country?
• What is your occupation at the moment?
• Why don't you continue your studies in your home country?
• How many universities did you apply to and in which countries?
• How many universities sent you an admittance letter?
• Have you ever been to the U.S. before?
• Why did you choose a university in California?
• Where will you be staying while in the U.S.?
• What do you know about U.S. educational system?
• What is your English test score?
• What is your GPA from your previous institution?
• How will you deal with the cultural differences?
• Who will support you financially while you are in the U.S.?
• What do your parents do for a living?
• Have you received any scholarship for your education?
• How much is the cost of your education in the U.S.?
• What are your plans after you finish with your studies in the U.S.?
• Do you have relatives or friends in the U.S.?
• Do you have a career that you want to pursue after you finish with your studies?
• Tell me a little bit about your family. Do you have any siblings?
• What do you intend to do after completing your program?
• Do you have any relatives in the U.S.? Where are they living?
• Why should I grant you a visa?
Please Note: F-1 visas are nonimmigrant visas. The most common reason for visa denial is the failure to overcome the presumption of immigrant intent. U.S. law requires that visa officers assume that applicants for an F or J visa want to move to the U.S. permanently and students must overcome this in order to be eligible. U.S. consular officers want the applicant to demonstrate permanent employment, meaningful business or financial connections, close family ties, or social or cultural associations, which will indicate a strong inducement to return to the country of origin.
Last but not least, make sure to check out: "Ten Point to Remember When Applying for a Non-Immigrant Visa Tips" for further information on this step.
Ready to start your Sofia journey?
We understand that enrolling in a university to begin your academic journey is a big step. Our dedicated admissions team is here to guide you through the admissions process and identify the right program for you and your career goals.
If you're ready to learn more, simply fill out our Request Information form and we'll reach out to you.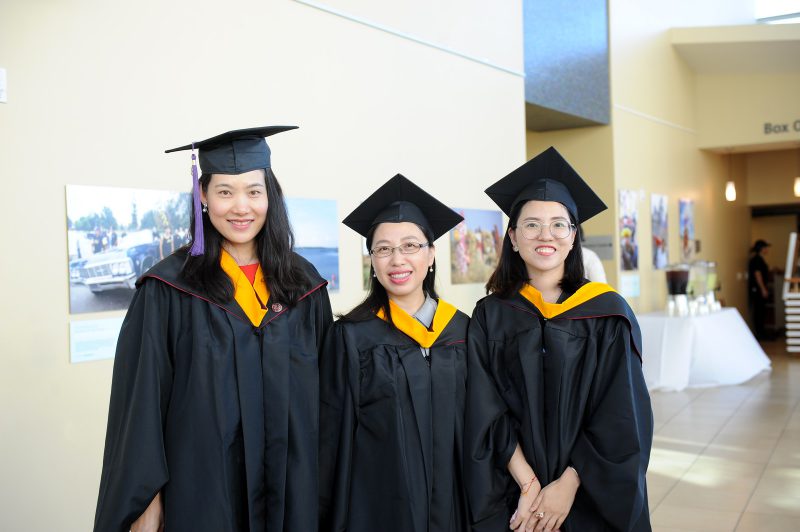 Please contact the DSO for Sofia University, should you have any additional questions at 888.820.1484 ext. 10361 or via email at dso@sofia.edu