A magazine by Sofia students for Sofia students.
Sofia University's student-led magazine, Sofia's Wisdom is back with a new publication!
The October 2022 issue, Burning Brightly, is a strong image of the empowered, engaging, change-makers who shares themselves and their passions freely with their community. This edition features some brilliant guiding lights in the form of student articles and art that exemplifies that theme. Indulge within these pages, and join us in Burning Brightly.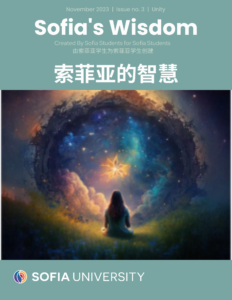 Sofia's Wisdom Unity (December 2023)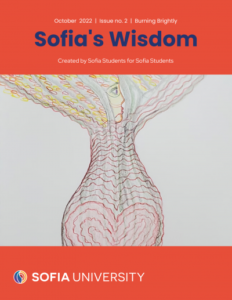 Burning Brightly (October 2022)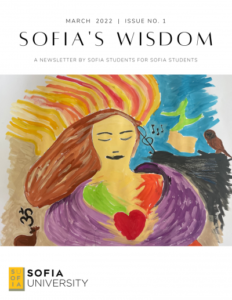 Turning Within (March 2022)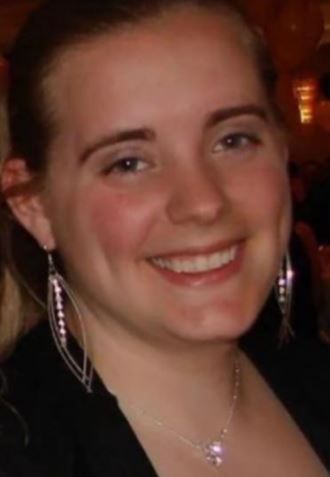 Stephanie Witechowsky, Founder & Editor In Chief
Stephanie Witechowsky is a student in the Masters of Arts in Transpersonal Psychology with hopes of one day earning her Ph.D. She is a student associate in the Student Services Department, and is also involved in Sofia's Student Senate.
Letter from Stephanie:
When I share the knowledge and awareness that I'm the founder of a school newsletter with friends and family, the most common question to follow is 'how did that happen?'.
I'm always amused to explain that it was, at least for me, a happy accident. I had an idea, I approached the right person, with it, namely our Dean of Student Services, Rosalie Cook, and she placed me in a fortunate position to start the project I had in mind. After several discussions with faculty and university personnel, I was given free rein to jump right in.
Upon entering Sofia University, I was astonished at how much we, as students, create. We open ourselves up to the material we read, the thoughts or feelings we are processing about our subject matter, and the ability to flex our creative aspects is brought to the forefront in our classes. Every course is layered with intentions, learning, integration, and creative expression. I found myself wanting to share my expressions with a wider audience than the canvas cohorts could reach at one time. I wanted to offer a space where other people could share their expressions as well. I wanted to open our student learning world a little bit wider so that the things we develop are allowed to touch other people and help them develop too. I also wanted to create a middle ground between student life and professional publication; more specifically some kind of student-level credential that future resumes could contain that offered up some previous experience in our small niche field. Student experiences pave the way for adult successes, so I wanted to find a placement for those student experiences.
Sofia's Wisdom is born of that same feeling, those same needs, and the responding call among the student body to commit themselves to their future through the publication of their own works. I feel honored and fortunate to start this project; to bring you the voices of your fellow cohorts from the MATP and Ph.D. programs of Sofia's great depth. We are a University that is constantly putting our best foot forward, and now our students get to express the wisdom they develop each step of the way. I am grateful to bring these to the public view, no matter where in the world you are. I hope this opens our niche field a little wider, and I hope it finds those who have never experienced it before. Lastly, I hope we all get to read and share and read again.
Thank you all for joining me in my happy accident.
Stephanie Witechowsky, Founder & Editor-in-Chief
Are you interested in getting involved with Sofia's Wisdom? If you'd like to submit a story or submit artwork, please contact Stephanie Witechowsky, Founder and Editor-in-Chief of Sofia's Wisdom.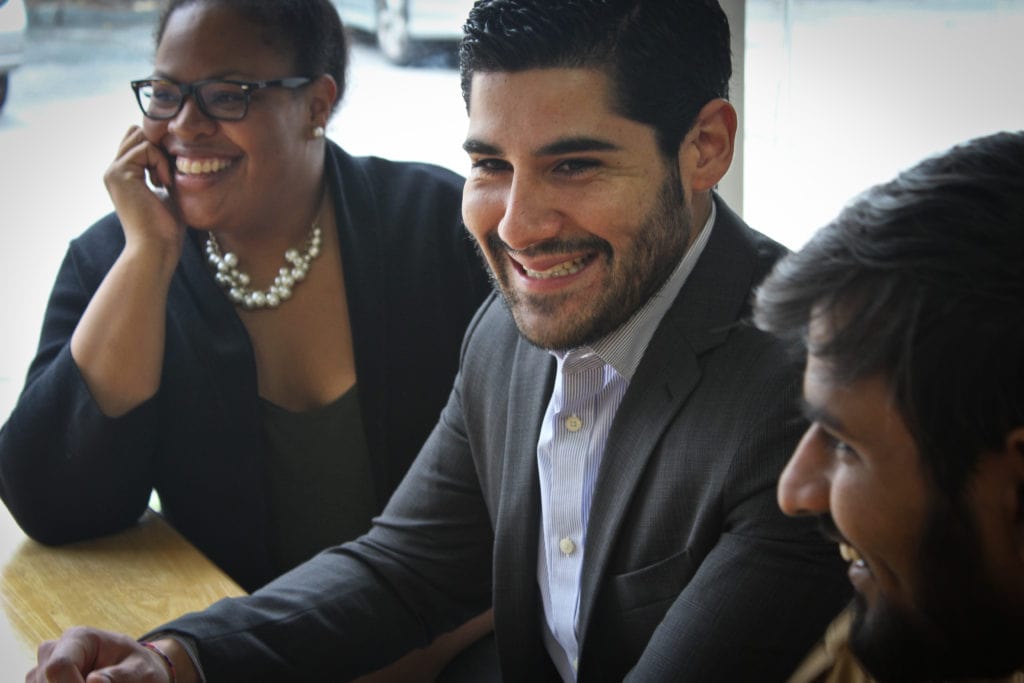 Speak with an enrollment advisor today to apply.